Seller Policy
Seller Policy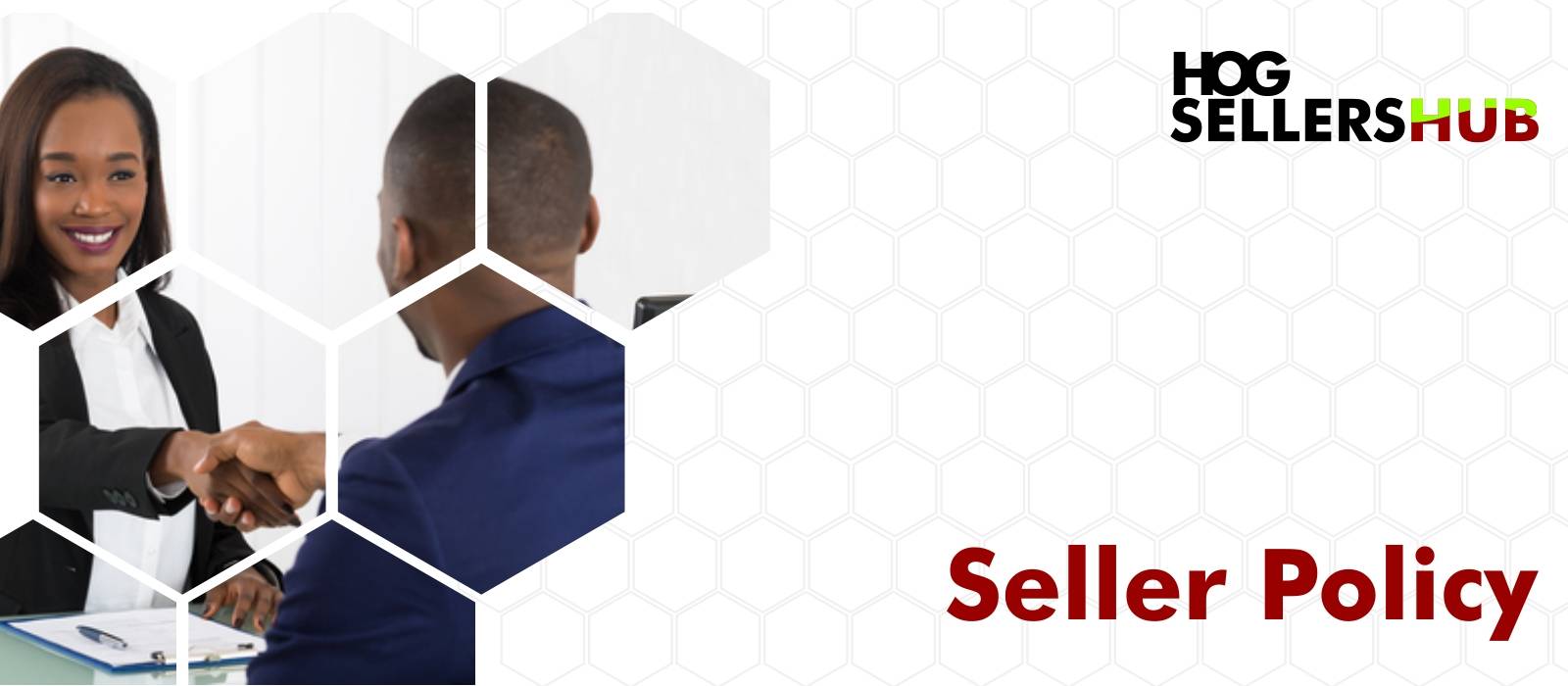 ---
OUR SELLING POLICIES ON HOGFURNITURE MARKETPLACE
HOG Furniture is a specialized marketplace platform in Nigeria that allows dealers and sellers in furniture, furnishing, fittings and Décor accessories for Home, Office and Garden or outdoors to sell their products to the public over the internet. This platform is currently provided on the website www.hogfurniture.com.ng
The merchant/dealer hereby agrees that the relationship between her and HOG Furniture is governed by this policy and the general terms and conditions available on the website.
HOG Furniture (Our) Responsibility/Obligations
Marketing & Promotion:

HOG furniture will promote the products listed by the seller on the website and every other marketing channel utilized by HOG Furniture.

Order/Sales Processing:

HOG furniture is authorized to accept sales on behalf of the merchant and will be careful to pass order data on to the merchant as well as for follow up and confirmation.

Delivery:

HOG furniture will provide delivery/logistics options to support merchants for prompt and effective deliveries. Our Delivery policy is currently N1,500 for Lagos and Ogun State and Base Charge of N5000 for other states in Nigeria and this may be higher depending on the value of the order. Where there is a bulk order we negotiate shipment fee with the courier companies we patronise on behalf of our customers to get them the best rate.

Assembly of product

– We offer such service in Lagos and Ogun State to our customers for free, while for other states, it is a paid service.

Sanctions:

In order to maintain its reputation for quality and high standard of service, HOG Furniture reserves the right to terminate the relationship with the merchant if the merchant repeatedly receives bad reviews or complaints or fails to comply with our recommendations.
Merchants (Your) Responsibility/Obligations
You will be responsible for listing and managing your products, pricing, and inventories.

You will be required to properly manage your stock to avoid cancellations and promptly inform HOG Furniture of a change in price or quantity of products.

You will be required to follow up with customers to confirm and clarify orders.

You will be required to maintain a constant communication with HOG furniture to update us if you are hosting a clearance, sales promotion, and other campaigns for proper synergy.

Assembly of product – It is your responsibility to assemble products you deliver if required within your reach as it endears customers to you.
As a merchant on hogfurniture.com.ng, you will be required to adhere to the following policies when listing or selling on HOG Furniture platform.
Registration policy
The merchant will have the opportunity to sell their products on the HOGfurniture.com.ng platform after completing his registration process which includes providing details of his business as stated below

Identity proof

– Passport, National ID, Driving License or any other valid means of identification.

Address proof

– Utility Bill (rent or electricity bills)

Business Registration proof

– CAC Certificate.

Bank Verification no

- BVN
Original Product Policy
The sales of inferior or low-quality products on HOG Furniture is highly prohibited and can lead to legal actions being taken against you if confirmed to be selling these products by the relevant authority. Kindly visit SON website to view specification for each product.
Suspension Policy
As a merchant, you store can be suspended for the following reasons;
Shipping wrong items or items different from what was listed on the website to a customer.

Delivering faulty items to customers

Delay in response to issues that affects a customer's experience.

High Volume of cancelled orders

Lack of payment of overdue commission

Store Closure Policy
Inactive Store

Shipping substandard products

Shipping used or refurbished products

Non-payment of long & overdue commission(s).

For more information on how to sell on HOG Furniture, see our FREQUENTLY ASKED QUESTIONS.
For more information on how to promote your store to reach more prospects and generate great sales for your business, view our ADVERT page for our RATE CARD. If you need support or require help with anything on your seller hub account page, simply send us an email info@HOGfurniture.com.ng